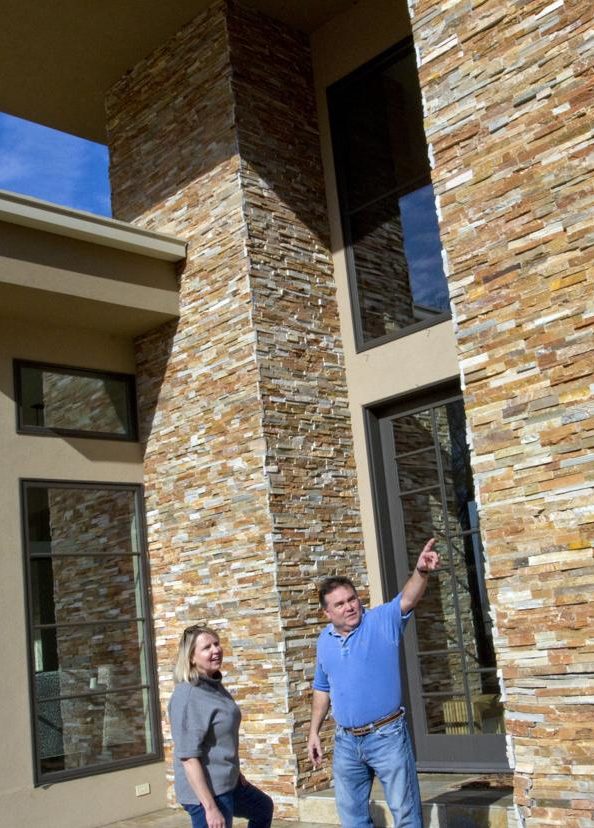 FROM ONE, IT GREW,
INTO THE PASSION OF TWO
Member of the Shoals Home Builders Association, National Home Builders Association Board Member, and Builder 20 Club Member, Rusty Alexander began his 40-plus year career in home building at age 16 working on rental properties. His design style was heavily influenced by his mother, who designed homes, landscapes, light fixtures and outdoor furniture. After designing, Alexander and his father were tasked with building them for her.
"She loved clean, horizontal lines and indoor-outdoor living, and I think that's why she loved living on the lake before it was popular," said Alexander. "I can remember looking out on the lake and not seeing a single light. We were living there year round, almost before anyone else."
When Rusty and his wife Lisa, who manages the interior design team at RiverWorks, built their own home in 2008 they often had to shop out of the area to find the unique furnishings to fit their modern style.
Once they started building new homes, they wanted to provide their clients with the opportunity to shop local for elegant finishes and furnishings instead of driving several hours to order from major cities. Riverworks Design Studio was founded in 2014, opened the showroom in 2016 and can provide a "turnkey experience" for clients, from construction of the home to selecting the finishes such as lighting and furnishings, all are available in the showroom.
RiverWorks' projects aren't limited to grand lake homes; we work with a variety of clients and budget sizes on both new build and remodel construction projects throughout northwest Alabama.
5 Integral Parts of our Company
The secret is a smoothly working team of people who are each endowed with some special talent. Who come together to offer you a one stop shop experience.
20 Mile Radius for Build Projects
Alexander Modern Homes is proud to serve the Shoals community for its building needs since 2015 and we are eager to continue our services for the future.
Convenient Location
Conveniently located, our showroom is practical and integrated with design solutions, selections, and furnishings to give you an idea of the finished look of your project selections.